The Unique Strain Relief Clamp On A PowerCon Connectors Keeps Everything Together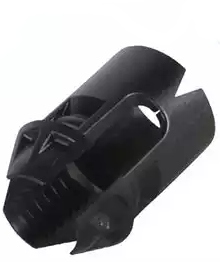 The internal strain relief clamp in genuine Neutrik PowerCon connectors insures that the connector will stay firmly on the cable, even under rough use.
Inside the threaded back shell of a Powercon connector, you'll find a strain relief clamp designed to hold tightly to the cables outer jacket and to grip more tightly, the more the cable is pulled away from the connector end.
Internal teeth are designed to grip down on a rubber cable jacket when the back shell is closed, and as long as this back shell stays firmly tightened.  When that shell is unthreaded, the strain relief clamp can be easily slipped back on the cable jacket or completely removed.
Genuine Neutrik PowerCon cables include two different sized strain relief clamps-White for 12 gauge cable and black for 14 gauge.
PowerConCables.com is your source quality PowerCon Cables.
Your satisfaction is always guaranteed.
Harrison Bros. Inc.
TheTapeworks.com
Voice 866-386-8335
Fax     800-327-6651
sales@harrisonbros.com