There are lots of non-Neutrik PowerCon connectors, most of which are made in China.
Legitimate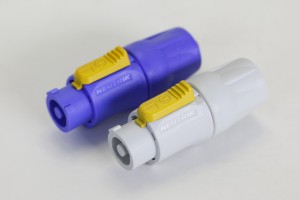 Counterfeit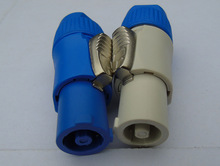 While there is some question regarding patent violations, lots of off shore manufacturers make their verison of the PowerCon and also equip sound and lighting products with non-Neutrik versions of the PowerCon.
Here a few ways to spot a counterfeit, even from a distance.
In order to save money on tooling and manufacturing, many connector makers use blue threaded back shells, even on the grey (Type B) version of the connector.  True Neutrik PowerCons have color matching back shells.
Many versions of other manufacturers connectors use a metallic or metallic looking spring loaded locking tab.  The current version of the true Neutrik PowerCon uses a yellow locking tab.
True PowerCon connectors say "Neutrik" right on the connector body.  While the "patentability" of the connector may be in question, the use of the Neutrik trademark is not.
Neutrik PowerCon connectors have a UnderWriters Laboratory Certificate of Compliance.  Connectors made by other manufacturers do not.
Most non-Neutrik PowerCons are fully compatible with the real thing, but care should be taken to insure that a manufacturers failure to pay attention to detail may well create a safety hazard when these connectors are used.
PowerConCables.com is your source quality PowerCon Cables.
Your satisfaction is always guaranteed.
Harrison Bros. Inc.
TheTapeworks.com
Voice 866-386-8335
Fax     800-327-6651
sales@harrisonbros.com