When Neutrik, one of the biggest and most innovative connector manufacturers in the world, introduced the Speakon connector to the pro audio world, they solved a vexing problem that sound people had been wrestling with for years.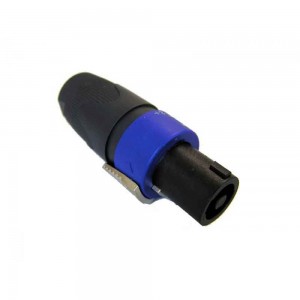 This durable, yet inexpensive connector design quickly became the standard among high end speaker cabinet manufacturers.  It solved the problem of speaker cables coming accidentally disconnected and it made it possible to assemble a connector in the field without the need to solder.
Now they have done the same thing with their PowerCon line, and it is quickly replacing the century old Edison connector system that has been in use on extension cords for decades.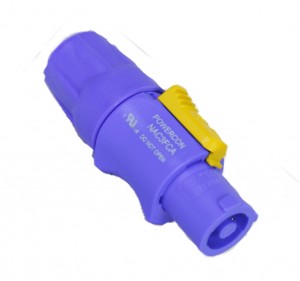 Cables equipped with PowerCon connectors are designed to lock to their mating connectors with a simple quarter twist.  Once locked in place, the connector can't be removed without pressing the release tab and twisting the connector in the opposite direction.  The days of accidentally disconnecting power from a piece of equipment by tripping over a cable quickly came to an end.
The PowerCon NAC3FC connector series from Neutrik is designed for three conductor (Load/Neutral/Ground) cable and can be assembled in the field or on the bench with nothing but a screwdriver.  No soldering is required.
This series of connectors features a strong strain relief grip to keep the cable from being pulled from the connector body.  It can be taken apart and inspected simply by twisting off the threaded end cap.
The connectors are color coded to make it easy to differentiate the power "in" (grey) from the power "out" (blue) ends of the cable and the two different cable ends are keyed so that they can't be connected incorrectly.  The mating panel mount connectors are the same matching color and are also keyed to prevent accidental incorrect mating.
These connectors are rated at 20 amps (120V) to give ample capacity for the sorts of power loads that pro audio and stage lighting techs need their cables to handle.
There is also a coupler device that allows shorter cables to be coupled together to create longer cable runs.
Finally, there is a series of PowerCon to Edison connector adapters that allow you to match the superior features of PowerCon cables to equipment that still uses the legacy standard.
PowerConCables.com is your source quality PowerCon Cables.
Your satisfaction is always guaranteed.
Harrison Bros. Inc.
TheTapeworks.com
Voice 866-386-8335
Fax     800-327-6651
sales@harrisonbros.com