PowerCon Cable Connectors are Made Up Of Four Parts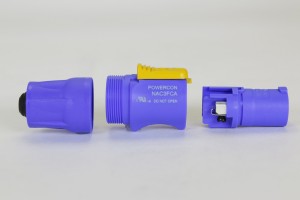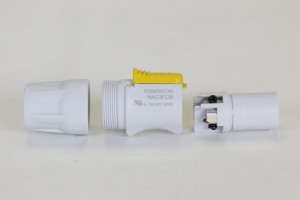 Whether input (Type A) or output (Type B), a disassembled PowerCon Cable is made up of four distinct parts.
Back Shell-A Threaded piece that fits over the cable jacket.  It includes a rubber boot to create a water resistant seal.  When threaded onto the main connector body, the connector is closed and ready to use.
Connector Body-The central part of the connector that covers the contact portion of the connector.  This connector body also includes the locking tab and the spring that holds this tab into place.
Contact Portion-The forward-most part of the connector includes the three separate contacts designed to mate with the matching chassis mount connector.  It has a separate screw terminal for each wire in a three wire cable, as well as the interior conductors that actually transmit power from the output to the input connector.
Strain Relief Insert (not shown)-The strain relief insert fits inside the Back Shell and is designed to grip the outer cable jacket when the connector body is closed.  Real (factory OEM) Neutrik PowerCon cables include two different sizes of strain relief inserts, one for 12 gauge cable and other for 14 gauge.
PowerConCables.com is your source quality PowerCon Cables.
Your satisfaction is always guaranteed.
Harrison Bros. Inc.
TheTapeworks.com
Voice 866-386-8335
Fax     800-327-6651
sales@harrisonbros.com